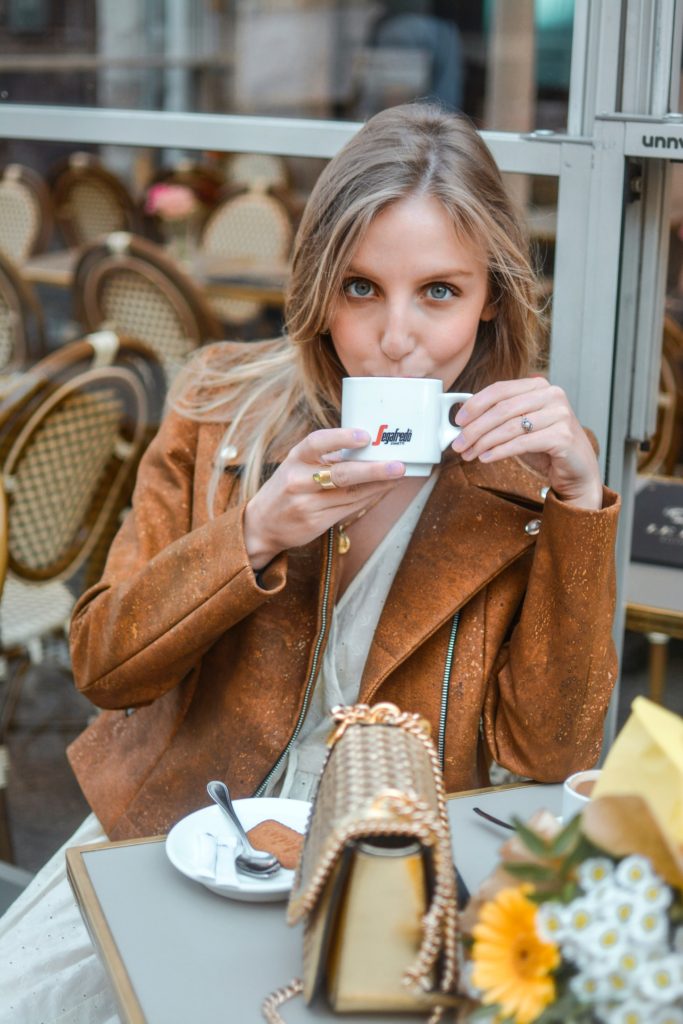 Since I began to wear vegan/cruelty-free fashion a few years ago, I've been more and more amazed looking at the number of new alternatives to animal leather blossoming over the months.
Vegetable leather made from pineapples, mushrooms or cork, I think that it's incredible what we are now able to do to limit animal exploitation.
That's why when the french brand Ovide contacted me to discover its cruelty-free clothing line, I was really excited !
Indeed Ovide offers clothes both stylish and sustainable, using three vegan and very ecofriendly fabrics : bartex (bark of African fig tree), vegetable latex and cork.
As for me, apart from Marina Kleist's vegan bags (which you may have seen in my Instagram feed), until now I had never really tested cork as an alternative to classic animal leather.
It must be said, however, that cork is one of the most sustainable vegetable leathers that exists ; taken from the cork oak forests of Portugal (without felling of the tree, the bark is expected to come off naturally), it is then colored with natural pigments and creates no waste.
It is also a really top material from a clothing point of view, because the cork leather does not require any maintenance, is waterproof and especially resistant to stains (especially wine 🍷)!
So when I put my eyes on the beautiful « Cassandre » cork perfecto from Ovide, with its beautiful squirrel color (does this even exist haha ?), I had only one idea in mind : wear it on my shoulders !
OVIDE – Origin, Vegan, Innovative, Design, Elegant
For the record, the brand was created by taking over the name of the latin poet Ovide, who wrote « Les Metamorphoses » ; the latter delivers one of the first pleadings for the respect of the animal, and advocates an enlightened and responsible vegetarian diet.
With this in mind, the Ovide brand offers clothes that are both ecofriendly, cruelty-free and above all stylish !
From my point of view, the Cassandre perfecto is really perfect for these beautiful spring days and for the sweet upcoming summer evenings ;
I like to wear it as well in a very rock style, with slim jeans and boots, or more dressy with a little dress.
It's this last option that I chose to show you today, I hope that the whole look will please you !
And above all stay tuned, as Ovide continues to innovate in vegetable leather and should release a new apple leather perfecto (yes you have correctly read !) in the coming months … looking forward to make you discover this new ecological material ♡
∴∴∴
♡ SHOP THE LOOK ♡
Perfecto Cassandre : made from cork leather, ecofriendly and (PETA certified), Ovide (offert par la marque)
Dress : made from deadstock fabrics in Los Angeles, Christy Dawn (old collection)
Bag « Wicker box » : ecofriendly faux-leather, ethically made in Italia, Stella McCartney
Baskets : vegan, made from organic cotton et natural and sustainable rubber, ethically made in Pakistan (Fair-trade certified), Ethletic
Ring « Observatorium péridot » : gold-plated silver and peridot, handmade in India, Gamme Blanche (-20% with ALIASLOUISE20)
♡ SIMILAR ITEMS ♡
[show_shopthepost_widget id= »3125494″]
∴∴∴
[show_shopthepost_widget id= »3125494″]