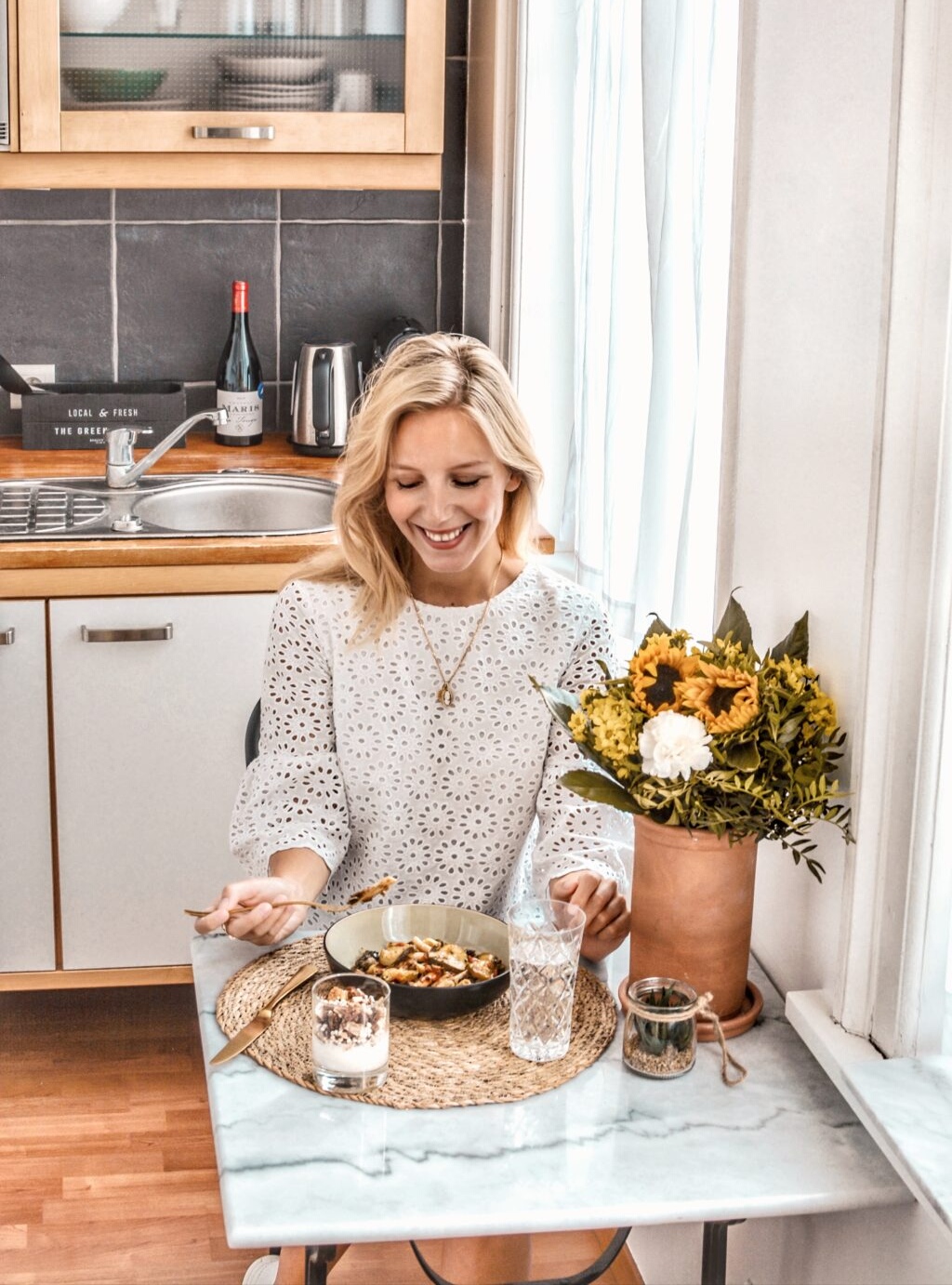 Hello there !
New article today to talk to you about a subject that I do not usually talk about here on the blog (but which worries me every day though): my body !
Indeed among the questions which come back regularly, those on my weight and my food and sport routines are really recurring. And if it is planned that I expose them very soon (you can tell me in comment if you prefer an Instagram post or a blog article), today I wanted to speak about a program which was a a real little boost for my « summer body« : Kitchendiet slimming meals.
Indeed even if I am quite thin, I still have – as the majority of women I think – several small parts of my body which refuse to melt, and this in spite of all the sport I do. So when I had the opportunity to test the Kitchendiet program for a week, I was really curious to see what result I could get !

What's Kitchendiet ?
Kitchendiet is a complete slimming program, which consists in receiving all your meals already prepared at home after having evaluated your needs/objectives online with a graduate dietetician. We can choose between 1, 3 or 6 months of program, and every week we receive at home breakfast, lunch, snack and dinner, all we need for 6 days out of 7. The 7th day is indeed considered as a free day – it allows you to learn how to manage your own meals (and get into the habit of building a balanced diet yourself) and allows you to keep your social life !
The meals we receive are diet (especially in terms of caloric intake and portions), without losing sight of the « gourmet » side of the food : they were indeed developed by the chef Mauro Colagreco (2* Michelin !) to rhyme figure and pleasure.
Concerning the result, Kitchendiet's weight loss averages 3 to 4 kilos a month for women and 4 to 6 kilos for men. It must be said that seen like that, it seems quite motivating !
The Kitchendiet program also includes dietary support, with phone consultations with a graduate dietician once every 14 days, group meetings (online chat with a dietician) once a week, and an 84-page guide « succeeding my slimming program volume 1 » delivered to the order.
Regarding prices, they range between 12 and 18 € per day (for 4 meals, delivery and dietary consultations included) with a sliding scale depending on the chosen program duration :
1 month: 140 € per week
2 months: 129 € per week
3 months: 117 € per week
4 months and +: 89 € per week
(you will find a small promo code at the end of the article ♡)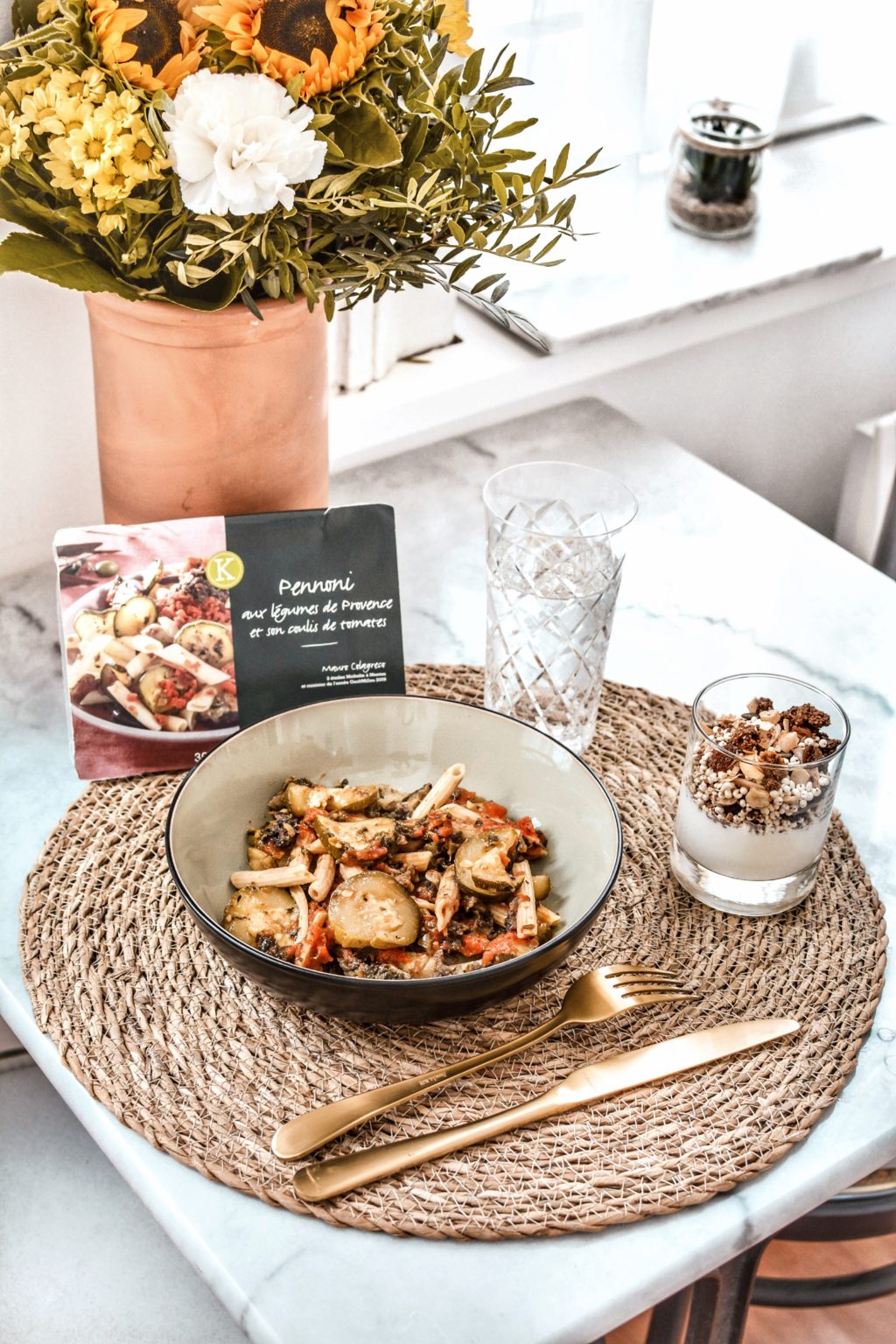 My opinion / What I really think of Kitchendiet
The good points
✩The dishes : I was a little skeptical in front of all the ads for slimming programs with meal delivery that we can see these days, but I finally changed my mind by testing those from Kitchendiet. Indeed we can feel that menus are sought and that the ingredients are fresh, far from industrial dishes. After a small evaluation of the ingredients label, I was really pleased to see that the composition of the dishes was almost flawless ! I also liked being able to choose my own meals, which allowed me to vary my menus and avoid the usual monotony of small diets.
✩The phone consultation with the dietitian : I really loved this feeling of being well supervised by nutrition experts and having a slimming program that meets my desires and needs. Indeed my basic problem was not really to lose weight strictly speaking, but rather to « deflate » a little before taking out my bikini ! So the dietician has reviewed my usual food program, and for example we could see together that if the latter was already well balanced I had the tendency to have the hand a little too heavy on salt. One of my goals during the Kitchendiet slimming meal cure was therefore not to touch my salt shaker at all (which was finally the hardest part) !
Points to improve
✩ The lack of options and choices according to the diet : even if I found what I wanted in this program, I think that Kitchendiet could improve a little in terms of choice of vegetarian dishes ! Indeed the program is I think really great for those who eat everything, but if we move away from the conventional diet it is possible to find the latter maybe quite monotonous. A little more creativity for veggie meals would be warmly welcome 🙂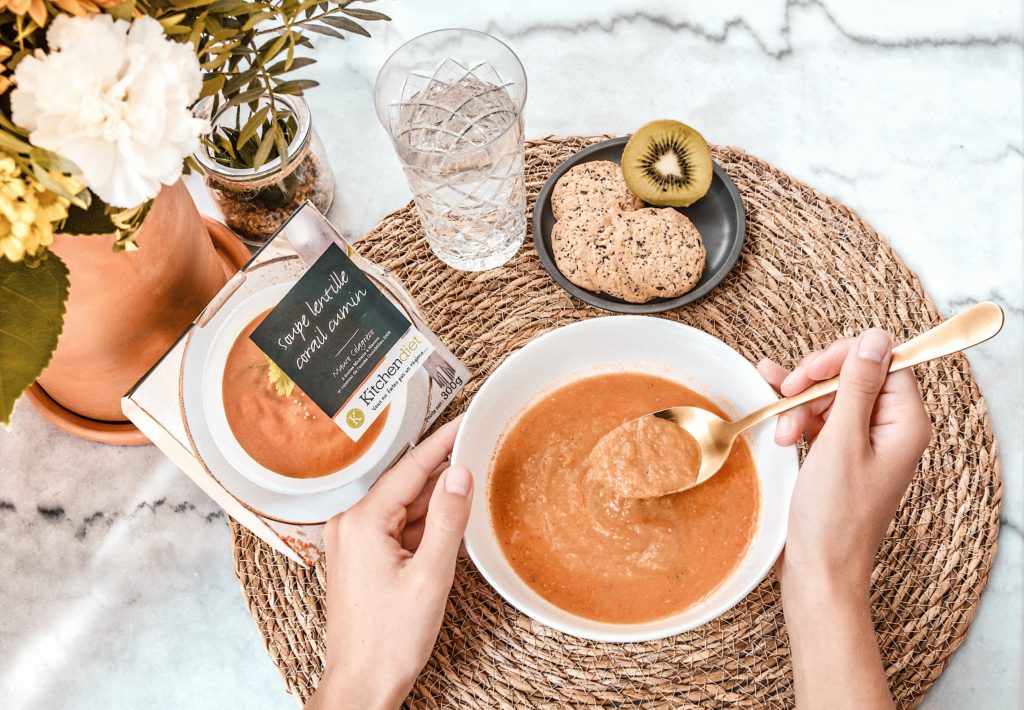 The result
✩ Was I hungry ?
One of the things that scared me a bit and which is the main reason I do not usually diet is the idea of ​​being hungry during the program ! It can indeed be said that I am a big eater, and I hate above all the feeling of deprivation. But it finally was a successful mission for Kitchendiet : I felt full with each dish, there is even a pasta salad that I did not manage to finish !
✩ Did I lose weight?
Being already very thin, I did not really expect much when I started this Kitchendiet program. I was even more pleased when I saw the result : -600 g on the scale after a week of testing ! Since then (2 weeks later) I have not taken them back and I continue to stay away from my salt shaker 😉
✩ Do I advise Kitchendiet?
Honestly I was very pleasantly surprised by this program, and I think it's a good way to lose weight permanently and without frustration !
I think it also helps to find good eating habits for those who need to learn how to have a balanced diet.
Article written in collaboration with Kitchendiet ♡
Best tip for you readers of the blog : with the promo code LOUISEKD you can have -20% on the slimming programs Kitchendiet in 1, 2 and 3 months formulas !
What about you ? Have you ever tried that kind of slimming program before ?