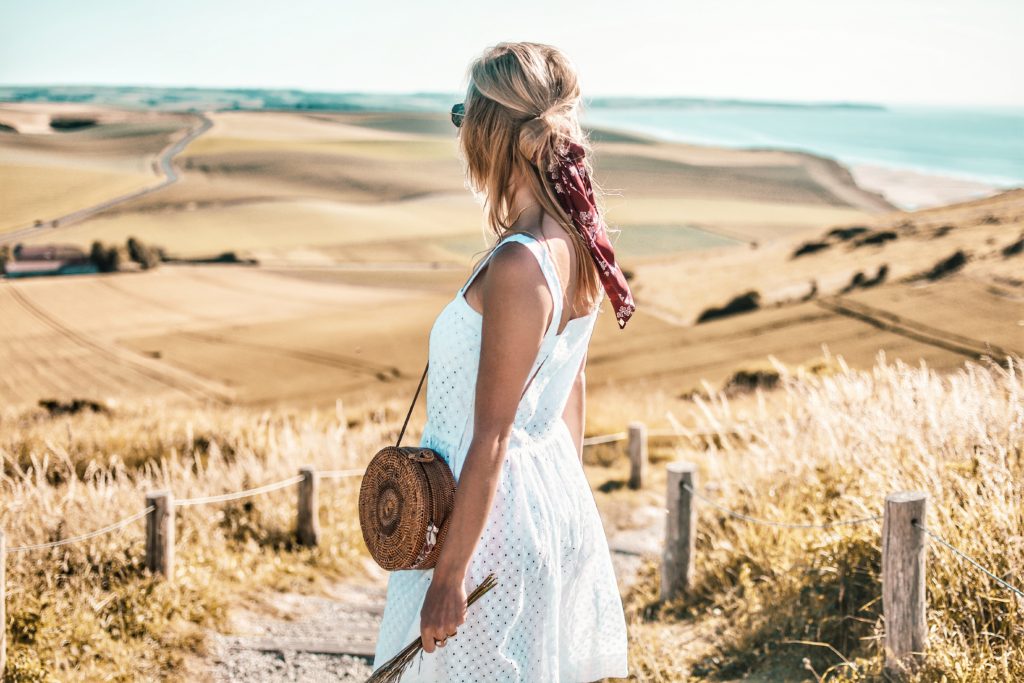 I do not know what is your story with vintage fashion, but for my part I have always had a rather passionate relationship with it.
After worshiping wearing vintage clothes all my teenage years (the military surplus jacket was my uniform in high school, it also speaks to you haha ?), I started to hate the idea of buying clothes already worn, and just to put my feet in a vintage shop and feel that slight musty smell (which always bugs me sometimes) gave me chills.
After a quite long period of total rejection, the passion for vintage fashion came back to me a few years ago, especially when I reviewed my way of consuming and I wanted to dress in a more sustainable way.
Because it must be said, buying vintage is still one of the most sustainable ways of consumption that is, and even has many other advantages over conventional fashion.
That's why I had great pleasure writing this article about vintage fashion (where you'll even find pictures of Charles that lends itself to the game hehe) and here are five good reasons to buy vintage :
– cheap clothes : vintage fashion is (generally) more affordable. Indeed, unless you only go to luxury thrift stores, you will find very quickly that buying vintage is often synonymous with good deals. It is not uncommon to find for example small dresses very stylish for only ten euros, or accessories (bags, scarves, jewelry…) at very interesting prices. This is the perfect compromise when you want to start buying ecofashion without emptying all the piggy bank !
– good basics : vintage fashion is full of timeless pieces that are the essentials of a wardrobe : Levi's shorts and jeans, white victorian blouses, oversize blazers and velvet jackets … for my part the base of my dressing was shopped in vintage stores ! And I find that worn out clothes have a really great shape, for a look in my opinion much « cooler ».
– sustainability : vintage fashion is also a great way to buy in a more sustainable way, without breaking the bank. First of all, the fact of recycling already used clothing makes it possible to have an ecological impact that is almost zero ; in fact, the water and energy waste and CO2 emissions required for the manufacture of clothing are absent here. This helps our little planet to get better while being stylishly dressed ! Also recycling clothes makes sure that they are not destroyed or thrown away, and therefore generate less pollution.
– luxury pieces : another big advantage of vintage fashion is that it is not uncommon to find luxury clothes and accessories at really good prices. I regularly meet Céline, Yves Saint Laurent or Chanel in second-hand clothes shops and vintage clothing stores, at incredible prices (sometimes 1/4 of the basic price, or even less) !
– one-of-a-kind pieces : one thing I love with vintage fashion is that there is very little chances that you come across someone with that same 30s dress you just found ! As for me I have several pieces found in vintage store that I keep preciously in my dressing room (like my little Cacharel dress), and I love that feeling of having an original look when I wear them, really far from Zara & co uniforms !
For this new ecofashion outfit, I chose to present you a great piece of clothes I recently found in a vintage shop from my city : my little white eyelets dress. It was in a really great condition, I just had to extend the straps a little because it was slightly too tight at the bust !
And Charles is here wearing a vintage linen shirt, just perfect for a chic and casual summer look.
This photoshoot was also an opportunity for us to discover the Cap Blanc-Nez (in Opal Coast, France) and its magnificent cliffs. I hope you will enjoy these pictures as much as we do !
I have also prepared a short list of my favorite vintage e-shops and a small selection of vintage white dresses ; you will find it at the end of the article ♡
∴∴∴
♡ SHOP THE LOOK ♡
Dress : vintage
Foulchie « Louise » : made in Paris from headstock fabrics, Scrunchie is Back (collaboration with Hivency)
Roundie bag » : vegan, handmade in Bali, POSSE
Baskets « Samo white » : vegan (PETA certified), ecofriendly and ethically made in Portugal, Good Guys Don't Wear Leather
Ring « Observatorium perle » : made from gold-plated silver and pearl, handmade in India, Gamme Blanche (-20% with ALIASLOUISE20)
ARTICLES SIMILAIRES // SIMILAR ITEMS
[show_shopthepost_widget id= »3211640″]
∴∴∴
Many thanks to Charles & Augustin Bonduelle for the pics ♡
As for me, my favorite vintage fashion e-shops are : Imparfaite., Louise Paris (mainly second-hand clothing but you can also find a vintage selection), Urban outfitters , Etsy et Asos marketplace . You may have to search a bit more on these last two sites, but you can really find great pieces !
And here is a little selection of white vintage dresses (via Etsy) :
[show_shopthepost_widget id= »3211657″]
What about you, do you like vintage fashion ?