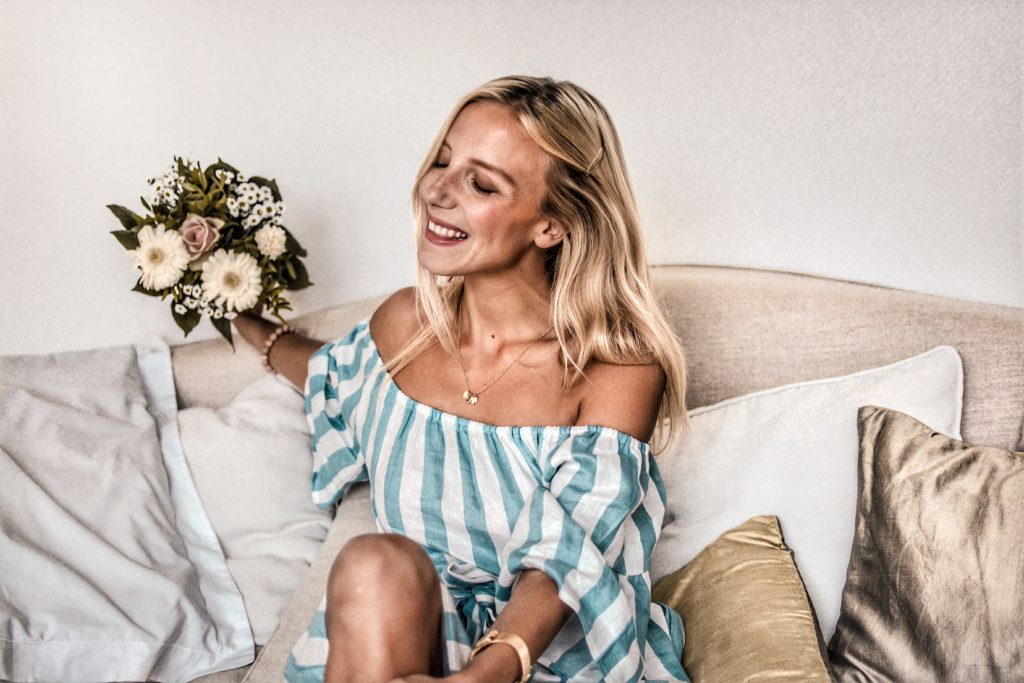 Hello there ♡
New article today to talk about one of my latest sustainable fashion favorites : Tiroir de Lou jewelry brand !
I've been following it for a while (I love her Instagram), and when I had the opportunity to know a little more about Lou's nice work I thought it would be realy to make you discover that lovely brand.
Indeed if you've been following me for a while you already know how much I'm a jewelry addict, and you also know that I'm the happiest girl when I find a brand both sustainable AND stylish.
And that was exactly the case with Tiroir de Lou ! Actually, I immediately fell in love with the poetic universe of this belgium brand, which is also very concerned about its ecological impact (and I love that!).
You need to know that between Lou, the creator, and the jewels, it's a (very) long story !
Passionate about jewelry for a long time, she decided in 2013 to create her brand Tiroir de Lou after a long career as a journalist.
Indeed besides the jewelry, words are Lou's other obsession : she likes to make and undo them, according to her desires and her moods, like a necklace that we create until we find the perfect combination.
We can find words everywhere in her creations, which they transform into precious amulets.
And that's this idea of magical words, like a talisman to keep close to the heart which inspired Lou for her new necklaces line « Chuuut/Les Mots Secrets » (« Shhhh/The Secret Words).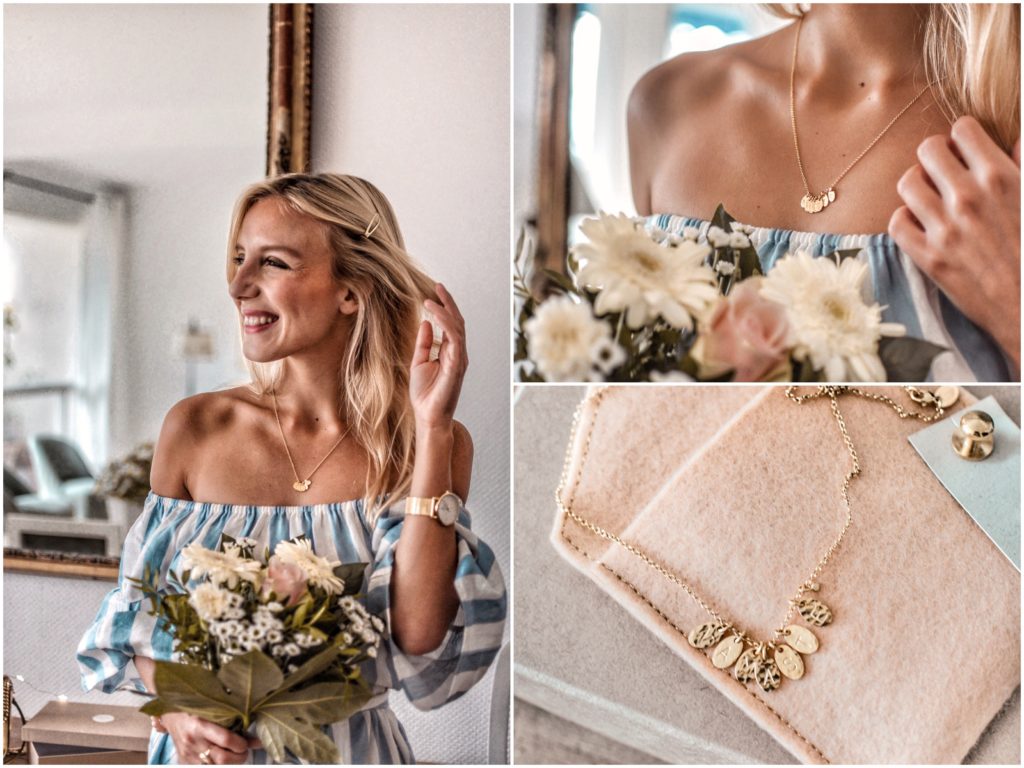 As for me, I immediately loved the idea of a little talisman that is kept around the neck and follows us everywhere, and it's by reading the description of the Chuuut necklace (written by the designer) that I really fell for it :
« You know it, I like words. Their nuance. Their peculiarity. Their metaphors. Their double meanings. Their light. Their poetry. Their depth. Their finess. I love them so much that I wanted to integrate them to my tribe of amulets. I also like to give meaning to my jewels. I like when they are talking. When they are speaking about life.. Love. Happyness. I love when they give strenght. When they anchor a memory or a value. Anyway, I love when magic operates through this tiny object that shines. So I imagined a jewelery concept that talks about you, life, philosophy, etc. Mysterious little necklaces that tell you, on the tip of words. At first glance, we see a cluster of small medals. Then, we guess a few letters in suspension. A first name. A value. Or just a nice word. A secret word. Bearer of meaning. To wear close to the heart. »
NAMASTÉ नमस्ते
Regarding my little necklace « Chuuut/Les Mots Secrets », I have chosen to engrave the letters of the word Namasté.
Indeed, this word of Sanskrit (old Indo-European language) literally means « I bow to you »
We usually say that word at the end of a yoga session, by putting one's palms close to one's heart and bowing to one's interlocutor.
Actually, Namasté stands for the belief that there is a divine light in each of us, located in the chakra of the heart. This behaviour is a sign of recognition of another one's soul.
I love to have this word shining around of my neck, it reminds me every day to keep my spirit opened and to be benevolent with every person I meet !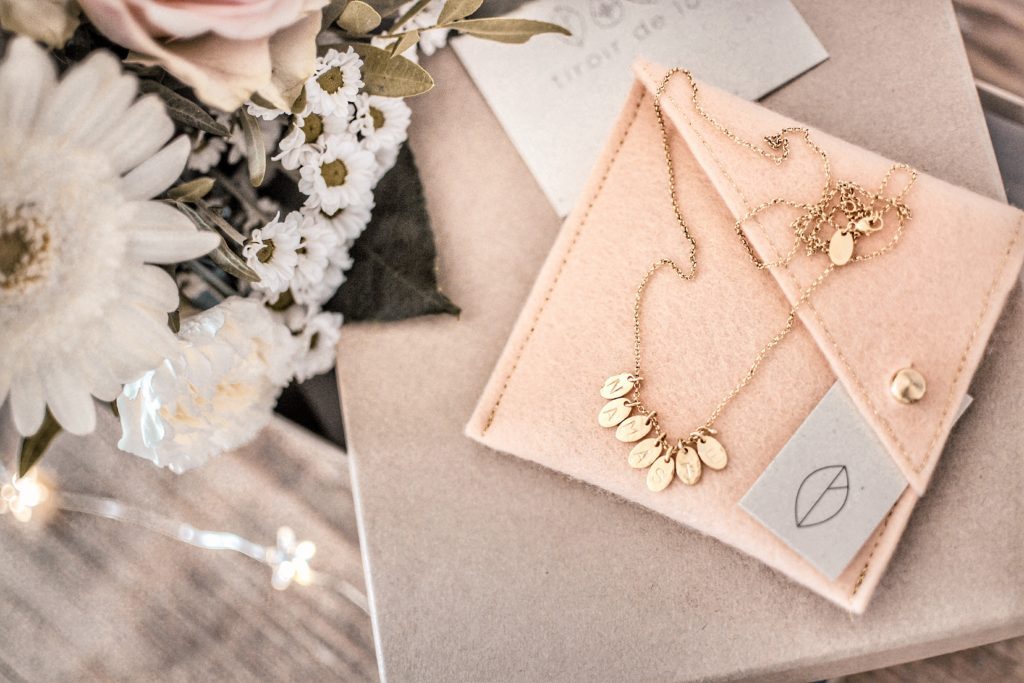 Sustainable packaging
At the time when ecology has become a global priority, Tiroir de Lou has taken up the #noplastic challenge for the packaging of her jewelry.
With its cute design created by the brand and its natural fibers (felt) ecological fabric, the pretty little pouch which goes with each Tiroir de Lou's jewel is a real accessory !
Moreover each step of its manufacture is part of a sustainable approach and all the materials come from the region of Bruxels and surroundings : the felt (natural fibers) is produced by a small family company located in Schaerbeek. The small buttons in metal come from a leather shop in Belgium and the thread comes from the store « les tissus du chien vert ».
Besides, the small cards which go with the jewels are made of recycled paper and come from a printer located in Woluwe.
You will understand, I never leave my Tiroir de Lou necklace which has become a real little talisman !
And I really love the idea of wearing such a beautiful creation that is also 100% belgian (living in Lille, in the north of France these are my direct neighbors !) ♡
« Chuuut/Les Mots Secrets » gold-plated necklace – Tiroir de Lou (sponsored)